Professional Introduction
1. This module is used for self-checking of the PSTN Terminal Products. With this module, the CMS can detect the unexpected condition in time and make sure that the system can work well.
2. With this module, we can check the terminal products in a regular time to make sure that the terminal products are in working state.
3. If some one who know the password of the terminal panel or have the remote control try to disarm the system in a special time to commit crime, the CMS will alert about this condition and take effective procedures.
4. This module support the dynamic change of DTMF sensitivity, so the terminal products with different telephone line can all sen information to CMS.
5. This module will show the DTMF Code uploading time
6. This module has the DTMF echo Control Function.
Common Introduction:
The terminal panels can send self-checking code, free arm/disarm message and real time data to the CMS, and the CMS will analyse, process, show and save all the code and data. In addition, the CMS can analyse the data and code of the DTMF that send by the PSTN to know what happened and what is going on. And this code and data can upload by handshake protocol or non-handshake protocol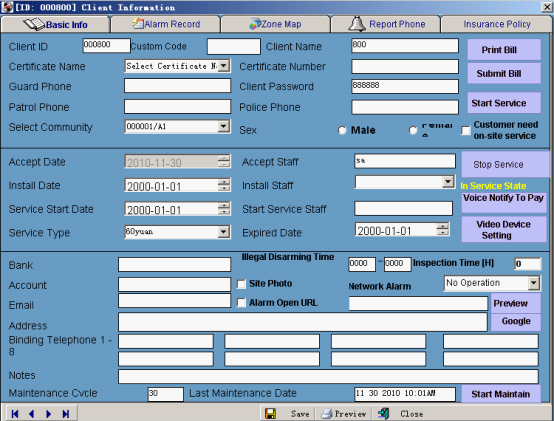 The selling Points for this module:1)When we upload the arm/disarm message to CMS by Contact ID protocol, we should pay for it. While with SSG SA732 protocol, we can upload arm/disarm message without charge.
Comparison of the CMS form SSG and Competitor
| | | |
| --- | --- | --- |
| | Competitor | SSG |
| Upload arm/disarm message to CMS without charge | Some | CMS of SSG can support the user to upload arm/disarm message without charge and it can also compatible with other protocol |
| Upload self-checking message to CMS without charge | Some | CMS of SSG can support the user to upload self-checking message from the panels and sensors without charge |