Professional Introduction
the heart beat inspection Module is used for self-checking function that the terminal panel and the central monitoring station will have a "handshake" in a regular time to ensure that the system was in normal working state. The CMS can set the interval time of the heart beat inspection. If the terminal panel doesn′t upload a code to CMS after the interval time, it means that the terminal panes has lost connection with CMS or there is some problem about the terminal products. So the the CMS will show the alarm information for this condition. This module can used for IP terminal products and the other products of SSG that can access net through GPRS, CDMA1X, EDGE, 3G and so on.

Common Introduction
(1) This module is used for self-checking for the terminal products that transmit code by network or GPRS/CDMA1X/EDGE/3G. And we called this module as Hear Beat Inspection Module. With this module, the CMS can immediately know what happened if there is any problem of the terminal panels.
(2) The Hear Beat Inspection Module can also used for 3G products. Because the 3G Products has no public open network IP for the front-end card, so we can not view the video directly. While with this module, we can detect the terminal products easily.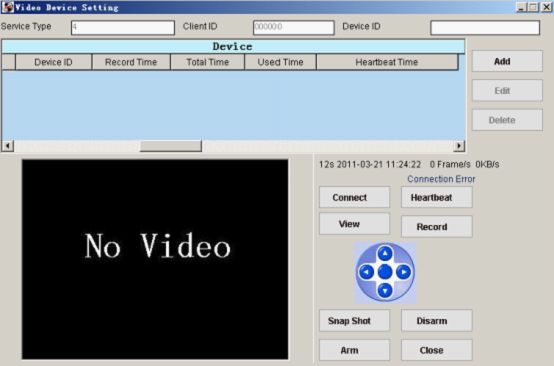 Application Situation:
(1) The module is used for self-checking of the terminal products that used SIM Card.
(2) The module is used for self-checking of the terminal products that used network and WIFI
(3) The module is used for self-checking of the terminal products that used 3G network.

The selling Point:
First:This module used for self-checking function of the GSM terminal products. Compared with those GSM terminal products that uploading self-checking message by dial-up mode, this module are much more economical and useful.
Second:Our Terminal products that send alarm information by Network or WIFI can work with wireless alarm sensors. This is a unique feature for SSG.
Third: This module can use P2P to save traffic fee for 3G Products which used No public open network IP SIM Card. It can support the following connection mode:
1) We usually use Heart Beat Inspection to upload message to CMS to save the traffic in greatest extend.
2) We only use P2P at necessary condition like request from SMS and telephone for voice to save traffic.
3) When alarm, the video will directly upload to CMS with stream media
4) P2P always on-line. When we view the video through IP, we can do two-way talking and listen-in.

Comparison of the CMS form SSG and Competitor
| | | |
| --- | --- | --- |
| | Competitor | SSG |
| Upload arm/disarm message to CMS without charge | Some | CMS of SSG can support the user to upload arm/disarm message without charge and it can also compatible with other protocol |
| Upload self-checking message to CMS without charge | Some | CMS of SSG can support the user to upload self-checking message from the panels and sensors without charge |