Professional Introduction:
This module is used for the PSTN Alarm System. With this Module, The the CMS can analyse the alarm information that transmitted by TCP/IP, so Alarm Information and video uploading that send by the IP network can be received by the CMS.. What′s more, with time communication for self-checking of TCP/IP, the CMS can get the state and information of the terminal products and request video or receive video from terminal products.
Common Introduction
This module is used to manage the terminal products that used TCP/IP protocol to send data.(For example the CMS can arm/disarm/bypass/clip video for the terminal products.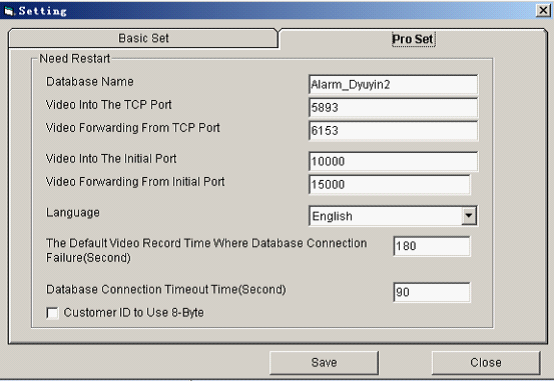 Application: The place that need video surveillance, 24 hour real-time remote monitor, Or those place that has strict requirement about the function to lower down the false alarmvideo storage for the scene as evidence and some special occasion.

Selling Point: SSG CMS combine the Alarm confirmed+Video Recording+Video Popup+Video Distribution. The CMS has powerful function. It can receive and process video that upload by different video terminals. It is very different from the videos that upload by the Video Module that inserted in IPC. The video that upload to the CMS is real-time. So the user can view the video on his phone or internet. While if we upload the video by the video module that inserted in the IPC, the user can not view the video by himself. Then once Alarm or Emergency situation happens, the user do not know what happened. So the video Module is nearly useless for the user.

Comparison of the CMS form SSG and Competitor
| | | |
| --- | --- | --- |
| | Competitor | SSG |
| Video Popup | No | This is a unique feature for SSG CMS.Alarm Confirmed+Video Popup |
| Video Recording | Some | This is a unique feature for SSG CMS.Alarm Confirmed+Video Popup+Video Recording |
| Remote Video Playback | No | This is a unique feature for SSG CMS. The user can remote request the video that recorded during alarm. It is very useful for the user. |
| Video Transmission | No | The CMS can set unlimited Sub-system. So when alarm occurs, the Alarm Information will show on the sub-system that setted that place |
| Video Popup in different place at the same time | No | This is a unique feature for SSG CMS. For example, when there is alarm or emergency in school. If the students alarm,, the real-time video will popup in the police station, and some other place. |
| Arm/disarm the terminal products. | Most not support this function | This is a unique feature foe SSG CMS. The CMS can remotely arm/disarm the network terminal products. |
| Real-time Video Recording and capture | Most not support this function | This is a unique feature foe SSG CMS. For example, when the assistant in the CMS discover that there is a suspected person that will commit offence. At this time, he can record and capture the real-time video to save as evidience. |