Introduction:
SSG video module is compatible with different type of video uploading. Mainly include:
1. GPRS/CDMA1X/EDGE module
When alarm happens, the video and picture will be sent to the CMS vial GPRS, CDMA1X, EDGE etc. Based on 2G/2.75G GSM network
2. TCP/IP module
The IP camera and related terminals upload the video via ADSL, optical fiber etc. Based on TCP/IP
3. EVDO/TD-SCDMA/W-CDMA
Upload alarm video, picture to alarm center vial high speed 3G network like EVDO, TD-CDMA, W-CDMA
4. VPN(Exclusive network of operators )
SSG alarm platform support multiple network environments, you can build platform with VPN , also can achieve the external network and the VPN special network access through the dual-network environment.

Features of SSG Alarm Panel with GPRS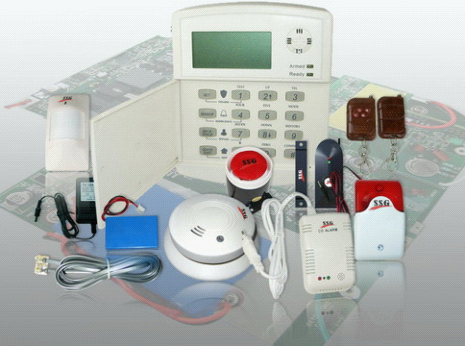 1. The panel will upload alarm information through GPRS. The "Heartbeat" function is optional. With Heart Beat, the CMS and the panel will have a handshake
2. When the system do not alarm, we use the Hear Beat to upload self-checking and some other data to CMS. And the interval time of the heart beat can be set by the user. In addition, the interval time could be seted differently in arm state and disarm state. In disarm state, the user can set the system not to send Heart Beat to CMS or to send it to CMS after a relative long time.
3. The panel can work with 4 wired sensors. It can also use with electronic board which can indicate the arm/disarm/alarm state to deterrent the intruder
4. We can use mobile to arm/disarm the system without charge.(We can set 6 groups of tie-in number in the panel). The panel will automatically identify the dial-in number, so the authorized user can use the mobile to arm/disarm the system instead of remote control without charge
5. Time arm/disarm automatically.
6. The system is compatible with wireless keypad as petrol function
7. And when there is a GPRS Network fautlt, the system will automatically turn on GSM network to alarm with Voice and SMS Alert.
8, The panel has LCD display to show 99 zone. It can work with 32 wireless sensors and 4 wired sensors.
9,The panel has build-in high DB siren, and It can also connect external siren. The system can set sound/mute alarm,record 100 historical logs,Display time. The system also have time arm / disarm, low power alarm, AC failure alarm,and Lithium-powered automatic switching function.
10. The system has voice instruction and ready to arm function. Ready to arm function means that When you want to arm the system while the door or window does not close well, the panel will make continious DI Alert to remind you that the window or door has not been close well.
11. The system has self-checking function and door chime function.
Self checking function : Self-checking function: Both the alarm panel and the sensor has self-checking function. The panel, the sensor and the Central Monitoring Station will combine together for self-checking. When the sensor was self-checking, it will automatically record the working state and power condition, then it will send signal to the panel, after that the panel will send regular report to the central monitoring station to check that whether the system was in normal condition.
Door Chime function: Door Chime Function: In disarm state, when someone come in, the system will make DI Alert.
12,GSM Network Alarm System: The system support SMS. And when the user send SMS to remote control the system, the panel will reply a SMS automatically and arm/disarm according to the SMS message
13,Use-friendlydesign. The panel is compatible with SSG wireless doorway keypad(The user can disarm the system on the keypad with password before enter in.)
14,With USB Interface for Update. The system Can use with flash siren ( to arm/disarm synchronously with the panel)
15,The LCD will show the global hieroglyph which can be recognise by people form different countries
FOQ
Control panel
Problems
Reason
Solution
no signal
Signal is being interfered
CMS can detect the disconnection by heartbeat function. The detailed time of disconnection will be known then.
SIM card has signal but GPRS can′t connect
GPRS network is under maintenance
CMS can detect the disconnection by heartbeat function.
Server
There is a disconnection in Internet. GSM call is ok
There is an error in fixed IP network
connection failure for Several times will the control panel activate backup phone number.
The server can not work
Power failure or some other reasons.
connection failure for Several times will the control panel activate backup phone number.
Sub-CMS
Lost connection with CMS server
Internet disconnection or Power failure.
Control panel will upload alarm information to CMS by GPRS, then CMS will give alarm system a feedback. If there is any problem, backup alarm phone number will be activated.
Arm/disarm through mobile phone
User can′t get though the control panel
Signal is not available
At this condition, please contact the customer service or arm/disarm the system with remote control
The Mobile can call the panel, while we can not arm/diarm the system on phone
There is some problems in the installation
At this condition, please contact the customer service (The Panel has remote control to arm/disarm function, while this function is not available now)