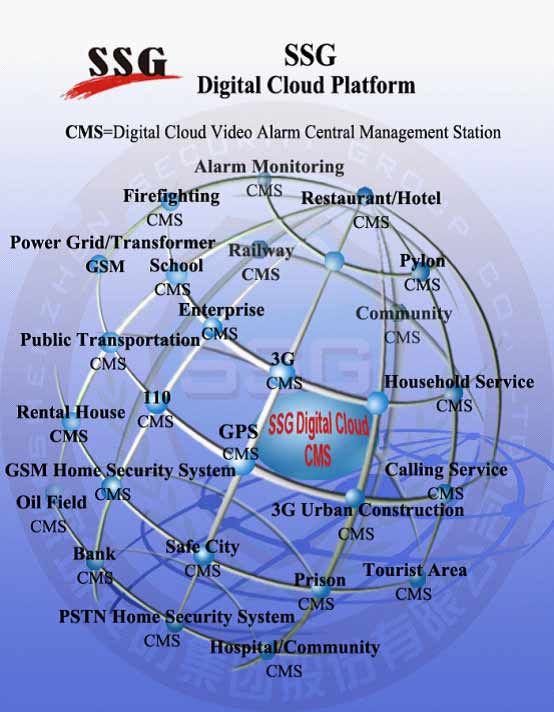 Just like picture above , all sub-platforms are developed as per the special requirement of sub-industry based on our Anbaotong digital cloud platform.
SSG digital cloud platform start a new era on network digital security management center, we developed many derivational sub-platform based on SSG Anbaotong integrated Management Cloud Platform. Bellow are some examples: SSG power grid/transformer video alarm platform,SSG school integrated video alarm platform,SSG prison integrated video alarm system,SSG security city integrated video alarm platform, SSG 110 integrated video alarm platform,SSG hospital&community video alarm platform,SSG pylon integrated video alarm system, SSG oil field integrated video alarm system,SSG emergency calling video alarm platform,SSG household service video calling platform, SSG home guard video alarm platform,SSG GSM home guard video alarm platform,SSG 3G video alarm platform,SSG fire-fighting video alarm platform,SSG tourism region video alarm platform,SSG GPS integrated video alarm platform,SSG railway video alarm platform,SSG rental house video alarm platform,SSG enterprise integrated video alarm platform,SSG public transportation video surveillance platform,SSG 3G security management platform,SSG bank video security management platform,SSG restaurant/hotel video alarm platform,etc.

All the sub-platform has the following features and functions:
1 sub-platform′ server, motherboard of core functions and the software are all developed and produced by SSG which has 52 years of history with mature and perfect product functions and features . SSG platform are in service for nearly 4 million users worldwide . In China, Most of China Mobile, China Telecom, China Unicom′ s city-level SP service platform are provided by SSG , 110 police center from126 cities and counties(in 16 provinces) used SSG platform, 1576 security companies in mainland china are using SSG a platform.
2 SSG is a world famous security product manufacture, which insure that most of teminal devices worked with platform are made by us including 3G security , GPS-3G security, GSM alarm, 3G intercom , video alarm IP camera, CMS terminal,IP surveillance terminal ,wireless pinhole camera+DVR, car 3G+GPS terminal,emergency calling terminal,etc. So that platform′ server, motherboard of core functions and the software are all developed and produced by SSG .you can find all the terminals as many as 14300 in SSG . SSG is your one-stop supplier for platform and terminals which make you avoid the risk of incompatibility and inconvenience to use different products .
3 All platform are web-based system , easy to upgrade and maintain remotely from anywhere on the earth.
4 All platform can open and extend more sub-platform. That means once you built a main platform,you can set up client platform anywhere on the earth to run local business , and do not need to build platform again and again. Theres client platform all access main platform to work and run. If a common client platform manage 1000 terminals, you just need an computer with internet access.
5 Level to level administration. Each sub-platform can manage its own platform within its rang, but can not manage other platform beyond it rang. The main platform can access any other sub-platform. In such a way , we can achieve effective management and avoid business overlap. It is quite fit big operator,transnational,state-run,private-run security companies.
6 Platform will call and tell the person who receive the alarm message by TTS intelligent digital voice alert system where ,which zone and what alarm event happend, so that that person can take quick action to deal with it.
7 SSG can supply SDK and second-developing port
8 SSG platform has international open protocal incuding SSG-GPS/SSG-3G/SSG-GPRS/CONTACT ID/4+2/SSG-732
9 Support various access mode include 1 signaling , 7 signaling , common PSTN. All signaling mode can support 30 channel,60 channel,120 channel,1920 channel at most, common PSTN mode can support 4 channel,8channel,16 channel, at most 256 channel . Our system can work with worldwide telecommunication operator to do SP business, boost ARPU value.
10 prepay auto voice alert system, service auto suspended on debt,auto billing system, security guard dispatching and finishing respond system
11 DVR centralized management system, video capture setup system, video proof saving and replaying, video circular viewing, alarm and video confirmation system.
12 search nearest security guard on GPS platform and dispatch them to deal with the event
13 Terminal/accessories/platform self-checking/reporting system . Terminal and platform conduct self-checking via GPRS heartbeat.
14 our security platform can synchronously work with insurance company and alert them to deal with the event at the same time.
15 time arm/disarm feature and security guard patrol log checking/saving/backing system
16 perfect data auto backup function
17 English. Spanish, chinese , three language for your option. We can modify it to your own language as per your nation
18 Set the different package as per different end users and classify end user to different service level as per monthly fee and security level
19 work with latest google digital map and satellite map
20 Digital cloud processing,various communication format without interference. No limite to run transnational platform, no interference on same transmission with different route

All the CMS introductions below is based on 23 function modules from our CMS.
In order to let buyer with different background to know our CMS deeply, we make two CMS introductions, one for buyer with professional security background, the other is for average buyer. Both of them get the same meanings.
Function branches of SSG CMS involves knowledge from city information security to client security management, each function can be used in its application, with 23 modules, SSG CMS can bring a lot of business opportunities to the buyer. All in all, it is a wonderful tool to promote buyer′ s business, SSG CMS will bring you a prosperity in career 100%.
With the coming of digital information times, the old solution can not meet people′ s demand any more. In the past, security company used industrial personal computer(IPC) to manage alarm system, the system was fragile, IPC tend to be out of order from time to time. The buyer have to call the supplier again and again, however, the supplier can′ t maintain the whole system remotely by computer, the engineer have to take several days to repair the whole system by himself. By far, most of CMS system suppliers still use IPC with standalone version , these CMS systems are suitable to Local area network(LAN), they are out of date. They get disadvantages as follows:
1. It can not be managed, maintained or updated remotely
2. It can′ t set up Sub-CMS
3. Unstable performance, poor efficiency.
4. Resource utilization is low.
5. It can extend its business to new area, new service.
6. The system can only provide service to limited clients, maybe just serval hundreds clients. Comparatively, the best SSG CMS can accommodate at least 0.2 million clients. Our system can upload and download video synchronously.
Three core systems of SSG CMS are as follows:
1. 9 unit professional servers for SSG CMS. For more details, please refer to the brochure
2. Core function motherboard of CMS. It is the "CPU" of SSG CMS.
In fact the main hardware of CMS consists of two parts: servers and core function motherboard. Only with these hardwares, the software can operate successfully. From the angle of technology, CMS from other companies don′ t have " Professional CPU" as SSG, so it is not the real CMS, just a standalone version dial-up control processor.
3. 23 system function modules.
We tend to name software with specific function as module, some software should work with specific hardware, we also call them as module. All these module should work with SSG hardware, so that the full function can be realized. All the digital modules in SSG CMS can be activated and upgraded remotely. All products from CMS to terminal products are developed by SSG, so the intellectual property belongs to SSG 100%. There is no doubt that the compatibility, performance stability, comparatively, is terrific.
Introduction about 23 CMS function modules (software+hardware):
Operating environment/system: SSG CMS is developed under the system of WINDOWS 2003, it is compatible with WINDOWS 7 completely.

One. SSG Core function module
Two. TTS module
Three. Network SMS/MMS module
Four. GPRS/CDMA1X/EDGE Module
Five. Video Transceiver module
Six. Self-checking/DTMF Code Resolution Module
Seven. Hear Beat Inspection Module (The Code is transmitted by network)
Eight. TCP/IP Network Transmission Management Module
Nine. Patrol management module
Ten. Video management module
Eleven. Storage and control module of real-time video
Twelve. Control module for power supply protection (Work with the Power Source from SSG)
Thirteen. Software matrix management module
Forteen. NVR application module (network-specific memory module)
Fifteen. SDK interface module
Sixteen. GPS module
Seventeen. API interface module
Eighteen. 3G module (EVDO, TD-SCDMA, W-CDMA CS, PS)
Nineteen. Charge docking module
Twenty. FTP maps and Google Map access module
Twenty One. Automatic and synchronous back-up date module
Twenty two. Digital Signaling Moduel
Twenty three. Video Modules