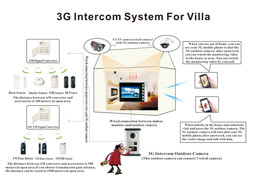 Name : 3G Intercom System Overview
Model : SSG-3GVDF
Manufacturer :
Readme :
One. System Introduction:
This system consists of 3G outdoor station, indoor monitor, power supply, electronic door lock, door closer, wires, burglar alarm signal converters and burglar alarm accessories.
3G Outdoor Station Introduction:
Common color video intercom system for villa

Features of Outdoor Station:

1. Built in high...