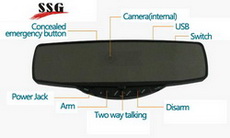 Name : 3G&GPS Car Security System
Model : SSG-3G&GPS
Manufacturer :
Readme :
Features

1.This product looks like a car rearview mirror , strongly hidden , woks after detecting continual vibrating and shaking under arm.

2.Easy installation: install it on the car rearview mirror in 5 seconds , no any wiring like other GPS devices, built-in back battery, 10 hour battery life per charging.

3.Secure your car: it will...